Dick's Towboat Gallery


Home
Site Keyword Search
Select Desired Menu
Recently Added/Changed

Click On Images Below
For Other Views Of
William Hank
(Images 1-5 of 11)







William Hank #516589
Length 133 feet - Breadth 35 feet - Twin screw towboat
Built 1968 by Greenville Shipbuilding Corp., Greenville, MS;
rebuilt 2013 by James Marine, Inc., Paducah, KY.
(Additional Information Below Picture)
Last Updated at 8:55 on Wednesday, March 6, 2019
Copyright Photo by Kasey Cummings - Thanks, Kasey!
On The Ohio At Paducah, KY, 8/2015
(1 of 11)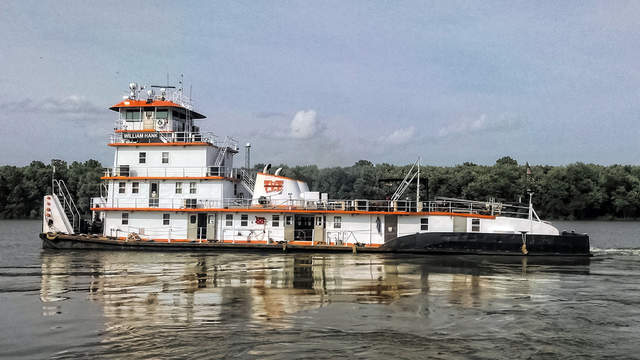 Cat 3516C diesels, repowered 2013, 4000 hp.
Reintjes reduction gears. Kort nozzles.
Originally Girard Lewis, owned by
Thomas Marine Co., Butler, PA.
Sold to Apex Towing Co., St. Louis, MO 3/1977.
Sold to Stapp Towing Co., Inc., Dickinson, TX,
renamed Shirley L. Stapp 1996.
Sold to Waxler Towing Co., Inc., Memphis, TN,
renamed Damon Waxler 9/1997.
Sold to Seacor Inland River Transport, Inc., St. Louis, MO 3/2007,
then SCF Waxler Barge Line LLC, Memphis, TN.
Sold to James Transportation, Inc., Paducah, KY 4/2011,
renamed William Hank 2/2012;
operated by Tennessee Valley Towing, Paducah, KY.