Dick's Towboat Gallery


Home
Site Keyword Search
Select Desired Menu
Recently Added/Changed

Click On Images Below
For Other Views Of
William E. Strait
(Images 1-5 of 21)







William E. Strait #270550
Length 200 feet - Breadth 45 feet - Twin screw towboat
Built 1955 by Dravo Corp., Neville Island, PA.
(Additional Information Below Picture)
Last Updated at 8:55 on Wednesday, March 6, 2019
Copyright Photo by Capt. Billy Smith - Thanks, Billy!
On The LMR At CCI Reserve, 2/2013
(1 of 21)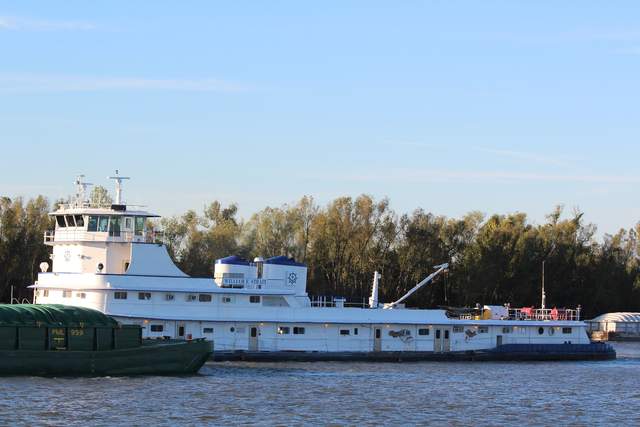 GM 20-645E7B diesels, repowered 1982, 7200 hp.
Falk red. 5.033:1. Kort nozzles.
Originally A. D. Haynes II, owned by
The Valley Line Co., St. Louis, MO.
Burned near Rosedale, MS 5/8/1956; rebuilt by Dravo Corp. 1956.
Sold to American Commercial Barge Line Co., Jeffersonville, IN 6/1992.
Sold to American Boat Co., Granite City, IL 12/1998.
Leased to Memco Barge Line, Inc., Chesterfield, MO 11/2004,
renamed Hank Tulodzieski 1/2005.
Firm became AEP River Operations LLC, Chesterfield, MO in 2008.
Sold to Western Rivers Boat Management, Inc., Paducah, KY,
renamed William E. Strait 6/2012.