Dick's Towboat Gallery


Home
Site Keyword Search
Select Desired Menu
Recently Added/Changed

Click On Images Below
For Other Views Of
Trevor J
(Images 1-3 of 3)





Trevor J #260344
Length 39 feet - Breadth 15 feet - Twin screw towboat
Built 1950 by Marietta Mfg. Co., Point Pleasant, WV.
(Additional Information Below Picture)
Last Updated at 8:54 on Wednesday, March 6, 2019
Copyright Photo by Steve Hutchison - Thanks, Steve!
On Big Sandy River, Mile 8.2, 9/1992
(1 of 3)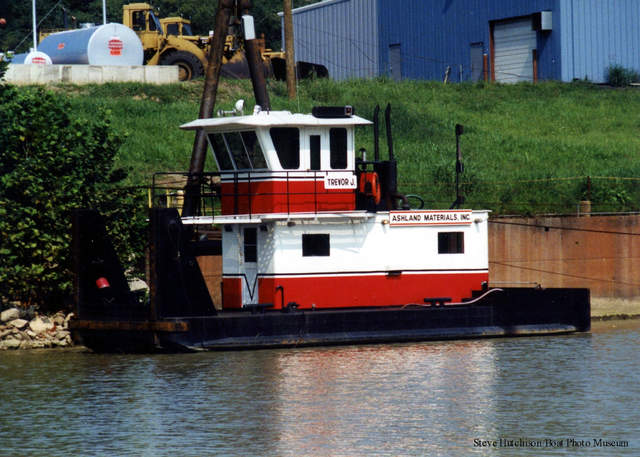 Cummins diesels, 500 hp. Machinery undetermined.
Originally Flying Saucer, owned by
Oglebay Norton Co., Ceredo, WV.
Sold to T. K. Keeney Sons, Inc., Belle, WV 1973.
Sold to Adams Trucking & Supply, Inc., Barboursville, WV.
Sold to KenWest Terminal, Catlettsburg, KY,
renamed Trevor J.
Sold to ABC Corp., Belle, WV 1996.
Sold to United Diving & Marine, Belle, WV 1/1999.
Removed from documentation 2008.