Dick's Towboat Gallery


Home
Site Keyword Search
Select Desired Menu
Recently Added/Changed

Click On Images Below
For Other Views Of
Temple Huckabee
(Images 1-5 of 24)







Temple Huckabee #537180
Length 133 feet - Breadth 34.7 feet - Twin screw towboat
Built 1972 by Greenville Shipbuilding Corp., Greenville, MS.
(Additional Information Below Picture)
Last Updated at 8:53 on Wednesday, March 6, 2019
Copyright Photo by Jeff L. Yates - Thanks, Jeff!
Southbound On The Ohio At Paducah, KY, 12/2010
(1 of 24)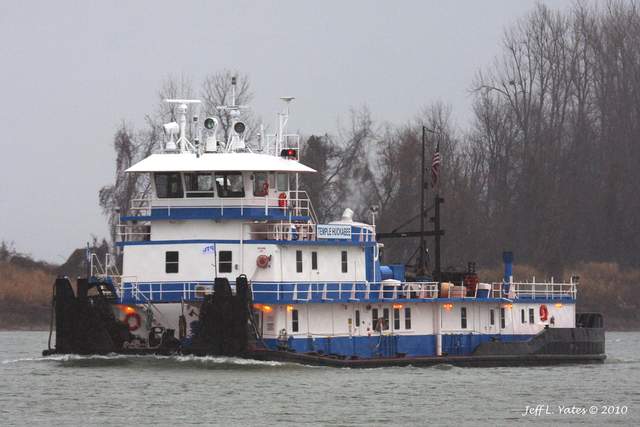 GM 16-645 diesels, 3800 hp. Western red. 3:1.
Originally Nita Vickers, owned by Vickers Towing Co., Greenville, MS.
Sold 2/1974 to Ashland, Inc., renamed Tri-State.
Transferred 1/1998 to Marathon Ashland Petroleum.
Firm name changed 9/2005 to Marathon Petroleum Co., Ashland, KY.
Sold 6/2010 to Parker Towing Co., Inc., Tuscaloosa, AL, renamed Temple Huckabee.