Dick's Towboat Gallery


Home
Site Keyword Search
Select Desired Menu
Recently Added/Changed
Sibley #262467
Length 98 feet - Breadth 30 feet - Twin screw towboat
Built 1951 by Sturgeon Bay Shipbuilding & Dry Dock Co., Sturgeon Bay, WI.
(Additional Information Below Picture)
Last Updated at 8:53 on Wednesday, March 6, 2019
Courtesy of Boat Photo Museum, Dan Owen - Thanks, Dan!
As Wisconsin On The UMR At Grand Tower, IL, 1/1965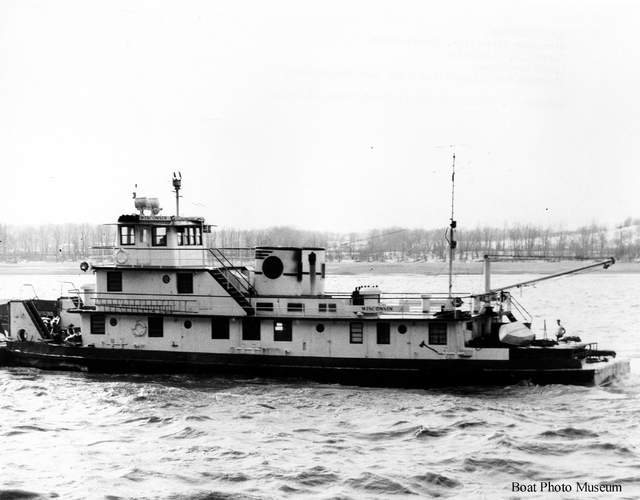 GM 12-567 diesels, 1800 hp. Falk red. 2.5:1.
Originally Petco 20, owned by
Clark Oil Refining Co., Milwaukee, WI;
renamed Clark St. Paul 1955.
Sold to Wisconsin Barge Line, Cassville, WI,
renamed Wisconsin 1962.
Sold to Findlay Towing Co., Inc., Tuscaloosa, AL 3/1966.
Sold to Radcliff Marine & Fuel Co., Inc., Mobile, AL,
renamed Sibley 1987.
Sold to Mississippi-Alabama Boat Leasing, Inc., Vicksburg, MS 11/1991.
Off the record 2000-2001.