Dick's Towboat Gallery


Home
Site Keyword Search
Boats In Order by Name
Select Towboat To View
Recently Added/Changed

Click On Images Below
For Other Views Of
Ron W. Callegan
(Images 1-5 of 15)







Ron W. Callegan #554602
Length 190 feet - Width 54 feet - Triple screw towboat
Built 1974 by Dravo Corp., Neville Island, PA
(Additional Information Below Picture)
Last Updated at 8:53 on Wednesday, March 6, 2019
Copyright Photo by Jeff L. Yates - Thanks, Jeff!
Posed At Cairo, IL, 3/2011
(1 of 15)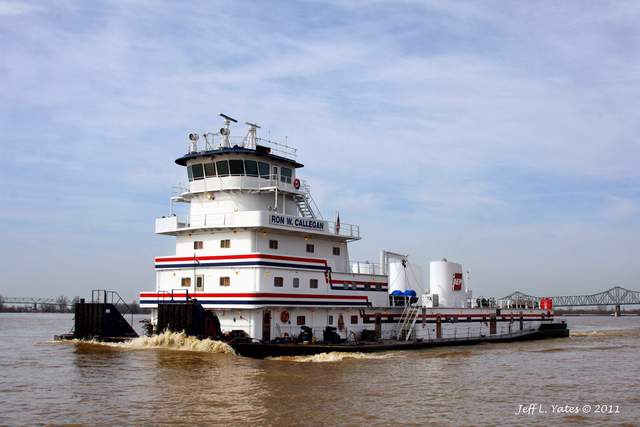 EMD 16-710 diesels, repowered 2010, 10500 hp.
Falk red. 4.515:1. Kort nozzles.
Originally Lily M. Friedman,
owned by The Valley Line Co., St. Louis, MO.
Sold 6/1992 to American Commercial Lines LLC, Jeffersonville, IN,
renamed Norb Whitlock 2/2006.
Sold 9/2009 to AEP River Operations LLC, Chesterfield, MO,
renamed Ron W. Callegan.