Dick's Towboat Gallery


Home
Site Keyword Search
Select Desired Menu
Recently Added/Changed

Click On Images Below
For Other Views Of
River Cleanup II
(Images 1-5 of 14)






River Cleanup II #278637
Length 52 feet - Breadth 24 feet - Triple screw towboat
Built 1958 by New Harmony Sand & Gravel Co., New Harmony, IN.
(Additional Information Below Picture)
Last Updated at 8:52 on Wednesday, March 6, 2019
Copyright Photo by Jeff L. Yates - Thanks, Jeff!
On The Ohio At Metropolis, IL, 6/2012
(1 of 14)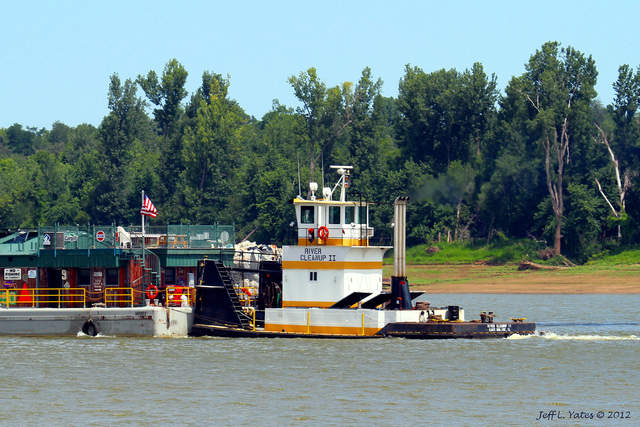 Photo Mug
& Cap
available!


GM 8V-92 diesels, repowered 1985, 1000 hp. Twin Disc red. 4.5:1.
Originally Jane F, twin screw, owned by builder.
Sold to Lattus Sand & Gravel Co., Hickman, KY 1966.
Transferred to Hickman Harbor Service, Hickman, KY 1968.
Sold to Ark-White Tow Co., Augusta, AR 2/1972.
Sold to Alwood Towing Co., Ripley, TN 1977.
Sold to TenTex Marine, Inc., Memphis, TN 1979.
Sold to Fullen Dock and Warehouse, Memphis, TN 3/1981.
Rebuilt from twin screw to triple, 1985.
Sold to Living Lands & Waters, E. Moline, IL,
renamed River Cleanup II 6/2011.