Dick's Towboat Gallery


Home
Site Keyword Search
Boats In Order by Builder
Select Towboat To View
Recently Added/Changed

Click On Images Below
For Other Views Of
River Addyson
(Images 1-5 of 11)







River Addyson #275952
Length 200 feet - Width 45 feet - Twin screw towboat
Built 1958 by Dravo Corp., Neville Island, PA
(Additional Information Below Picture)
Last Updated at 8:52 on Wednesday, March 6, 2019
Copyright Photo by Marian Phillips - Thanks, Marian!
Southbound On The LMR At Vicksburg, MS, 7/2014
(1 of 11)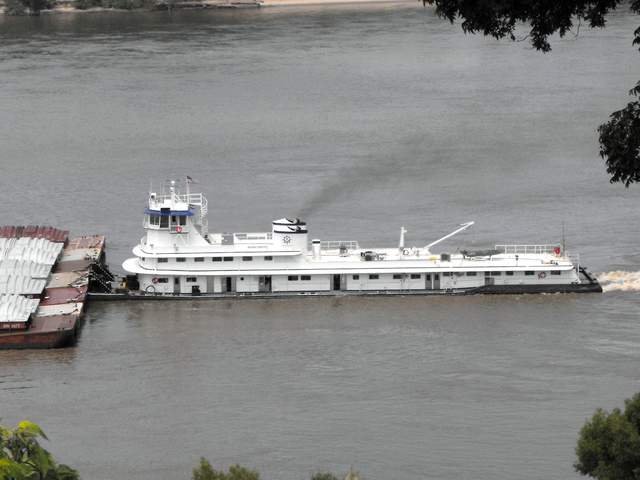 Photo Mug
& Baseball Cap
available!


GM 20-645E7B diesels, repowered 1980, 7200 hp.
Falk red. 4.515:1. Kort nozzles.
Originally Theresa Seley, owned by
Seley Power, Inc., New York City, NY.
Sold to Nilo Barge Line, Inc., St. Louis, MO 2/1976.
Sold to Sea West Partners, Inc., New Orleans, LA 1981
(affiliate of Dravo Mechling Corp.)
Leased to Stokes Towing Co., Inc., Greenville, MS 1985.
Sold to National Marine, Inc., New Orleans, LA 2/1988.
Sold to Hugh Mac Towing Corp., Slidell, LA,
renamed Chris Way MacMillan 12/1991
Sold to American Boat Co., Cahokia, IL 8/1995,
renamed Robert E. Frane 4/1996
Sold to Eagle Towing Co. LLC, Granite City, IL 3/2001.
Leased to Marquette Transportation Co., Inc., Paducah, KY 1/2006-2009.
Renamed River Addyson 2014.