Dick's Towboat Gallery


Home
Site Keyword Search
Select Desired Menu
Recently Added/Changed

Click On Images Below
For Other Views Of
Patriot
(Images 1-5 of 9)







Patriot #239124
Length 148 feet - Breadth 40 feet - Twin screw towboat
Built 1939 by Treadwell Construction Co., Midland, PA,
and Jeffboat, Jeffersonville, IN.
(Additional Information Below Picture)
Last Updated at 8:52 on Wednesday, March 6, 2019
Copyright Photo by Capt. Billy Smith - Thanks, Billy!
At The Waterfront In North Little Rock, AR, 7/2014
(1 of 9)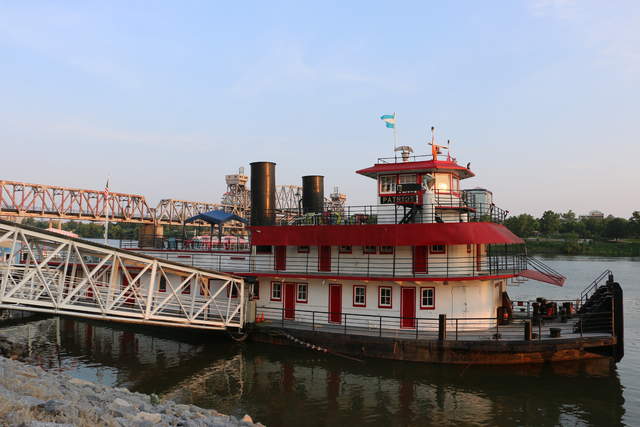 Cooper-Bessemer LT-6 diesels, 2000 hp. Direct drive.
Originally Patriot, owned by
American Barge Line Co., Jeffersonville, IN.
Sold to O. F. Shearer & Sons, Cincinnati, OH 5/1952,
renamed O. F. Shearer 6/1953.
Sold to Indiana & Michigan Electric Co., Lakin, WV 9/1973.
Sold to Boeuf River, Inc., Wisner, LA,
renamed Angel Patience 1/1979.
Converted to floating restaurant at Clayton, LA,
on the Tensas River, Early 1980s.
Converted to wharf boat at North Little Rock, AR,
renamed to original name, Patriot.