Dick's Towboat Gallery


Home
Site Keyword Search
Select Desired Menu
Recently Added/Changed

Click On Images Below
For Other Views Of
Mary Alice
(Images 1-2 of 2)




Mary Alice #236706
Length 90 feet - Breadth 22 feet - Twin screw towboat
Built 1937 by F. W. Olcott, Paducah, KY.
(Additional Information Below Picture)
Last Updated at 8:51 on Wednesday, March 6, 2019
Copyright Photo by 'Towboat Joe' Brown - Thanks, Joe!
As Alexandra M Parked On The River Circa 4/2005
(1 of 2)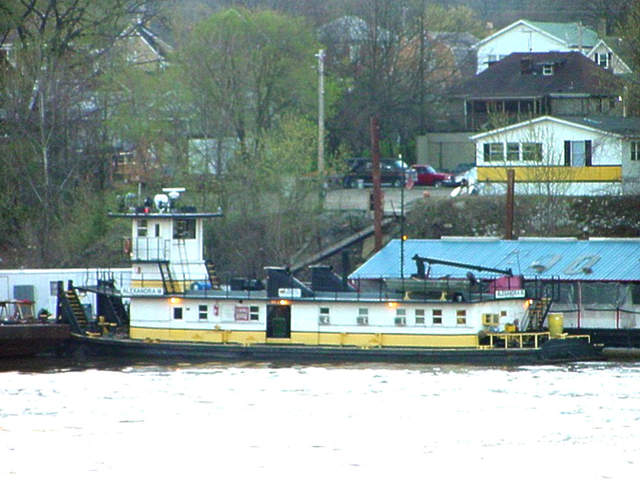 Cat D353 diesels, repowered 1976, 850 hp.
Twin Disc red. 3.03:1. Kort nozzles.
Originally Husky, owned by
Canton Towing Service, Canton, MO.
Sold to Pure Oil Co., renamed W. V. Keeley 1/1951.
Sold 10/1958 to Hannah Inland Waterways Corp., Lemont, IL,
Rebuilt with retractable pilothouse,
renamed Mary E. Hannah.
Sold to Clark Marine Service, Baton Rouge, LA,
renamed Clark Marine 1961.
Operated by Kansas City Towing Service,
renamed Big John 1963.
Sold to Delta Concrete Co., Bellaire, OH 1964.
Sold to Dravo Corp., Pittsburgh, PA 4/1970.
Sold to Paul Suchko, West Newton, PA.,
renamed Helen K 9/1971.
Sold to G & C Towing, Inc. 9/1973.
Sold to Crew Towing Co., New Albany, IN 8/1974,
renamed Debra Beth 8/1977.
Sold to J. D. Shake Construction Co., Madison, IN 7/1984.
Sold to Aquarius Marine, Inc., Ludlow, KY,
renamed Alexandra M 2/1998.
Sold to Specialty Marine Services LLC, Olive Branch, MS 9/2005.
Sold to Tribal Marine, Inc., Houma, LA,
renamed Mary Alice 8/2006.
Sold to Tippy's Towing, Inc., Morgan City, LA 7/2009.