Dick's Towboat Gallery


Home
Site Keyword Search
Select Desired Menu
Recently Added/Changed

Click On Images Below
For Other Views Of
Elisha Woods
(Images 1-3 of 3)





Elisha Woods #249813
Length 112 feet - Breadth 26 feet - Twin screw towboat
Built 1946 by Nashville Bridge Co., Nashville, TN.
(Additional Information Below Picture)
Last Updated at 8:50 on Wednesday, March 6, 2019
Copyright Photo by Fran Mullen - Thanks, Fran!
Moving Through The Locks, 10/1964
(3 of 3)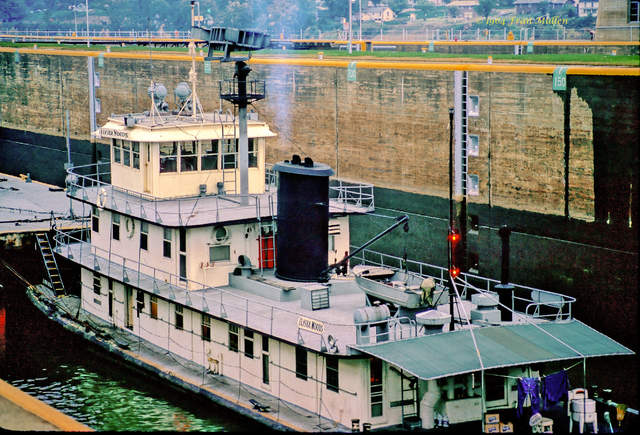 GM 8-567C diesels, repowered 1992. 1600 hp.
Falk reduction gears 3.2:1.
Originally Elisha Woods, owned by
Charles C. Smith Co., Houston, TX.
Sold to Sohio Petroleum Co. 3/1948.
Sold to A. L. Mechling Barge Line. Joliet, IL 6/1951.
Sold to Triangle Towing C0., Maysville, KY 11/1961.
Sold to International Barge, lnc., Cincinnati, OH 6/1972,
renamed Randy Draper 12/1989.
Renamed Elisha Woods 6/1991.
Sold to James Marine, Inc., Paducah, KY 7/1995.
Sold to CKL Corp., Petersburg, KY for scrapping 3/1999.