Dick's Towboat Gallery


Home
Site Keyword Search
Select Desired Menu
Recently Added/Changed

Click On Images Below
For Other Views Of
Darlane B
(Images 1-4 of 4)






Darlane B #569124
Length 70 feet - Breadth 26 feet - Twin screw towboat
Built 1975 by Toche Enterprises, Ocean Springs, MS.
(Additional Information Below Picture)
Last Updated at 8:49 on Wednesday, March 6, 2019
Copyright Photo by Eric M. Johnson - Thanks, Eric!
On The Monongahela At Elizabeth, PA, 5/2016
(1 of 4)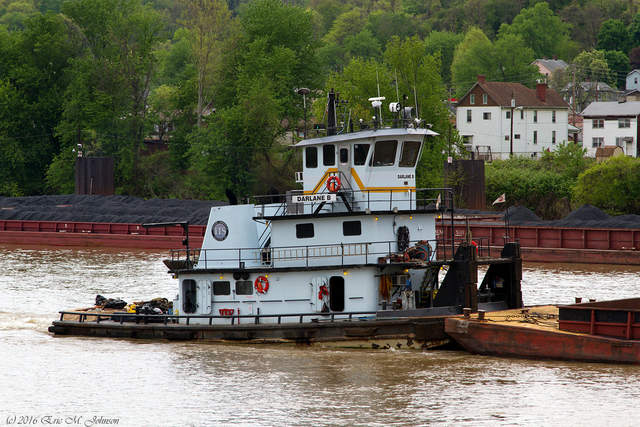 Cat C32 diesels, repowered 2015, 1500 hp.
Twin Disc reduction gears, 6:1.
Originally Harry Collins, operated by
Koch-Ellis Marine Contractors, Inc., Westwego, LA.
Sold to Mid-Continent Stone Co., Inc., Lake Charles, LA ,
renamed Stone King 11/1987.
Sold to Spanier Marine Corp., Harvey, LA,
renamed Bud Spanier 4/1990.
Sold to Eckstein Marine Service, Inc., Harahan, LA,
renamed Ryan Patrick 12/1991.
Sold to Kirby Inland Marine LP, Houston, TX ,
renamed East Wind 9/2006.
Sold to Industry Terminal & Salvage Co., Industry, PA,
renamed Darlane B 1/2011.