Dick's Towboat Gallery


Home
Site Keyword Search
Select Desired Menu
Recently Added/Changed

Click On Images Below
For Other Views Of
Capt. Buck Lay
(Images 1-5 of 14)






Capt. Buck Lay #643716
Length 168 feet - Width 42 feet - Twin screw towboat
Built 1981 by Dravo Corp., Neville Island, PA
(Additional Information Below Picture)
Last Updated at 8:49 on Wednesday, March 6, 2019
Copyright Photo by Ron Richardson - Thanks, Ron!
On The Ohio At Brandenburg, KY, 8/2011
(2 of 14)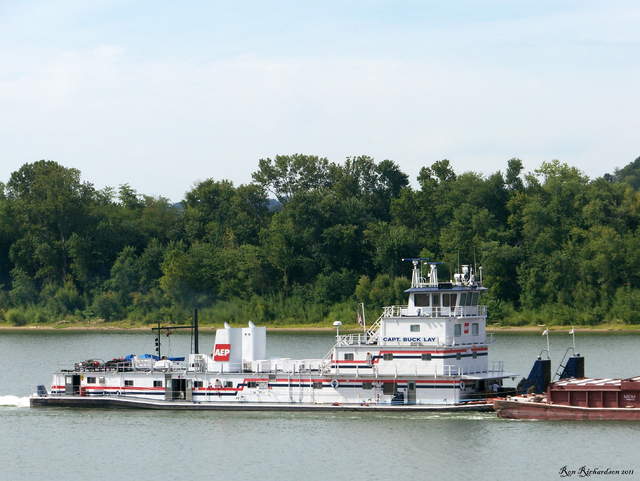 GM 16-645E7BA diesels, 6140 hp. Falk red. 4.345:1. Kort nozzles.
Originally Janet Marie, owned by
Kalibash Limited Partnership, St. Louis, MO.
Operated by Huffman Towing Co., St. Louis, MO until 4/1985.
Operated by Phoenix Towing Co., St. Louis, MO 4/1985-12/1987.
Then operated by SCF Transportation, Inc., Greenville, MS,
for Superior Barge Lines, Inc., St. Louis, MO.
Leased to Memco Barge Line, Inc., Chesterfield, MO 12/1991,
renamed Carol Ann Parsonage 1993, then sold 1/1995.
Firm name changed to AEP River Operations LLC, Chesterfield, MO 2008.
Renamed Capt. Buck Lay 3/2011.