Dick's Towboat Gallery


Home
Site Keyword Search
Select Desired Menu
Recently Added/Changed

Click On Images Below
For Other Views Of
Alana Paige
(Images 1-4 of 4)






Alana Paige #283457
Length 45 feet - Breadth 15 feet - Single screw towboat
Built 1959 by Humboldt Boat Service, St. Louis, MO.
(Additional Information Below Picture)
Last Updated at 8:48 on Wednesday, March 6, 2019
Copyright Photo by Jeff L. Yates - Thanks, Jeff!
On The Ohio River At Paducah, KY, 7/2012
(1 of 4)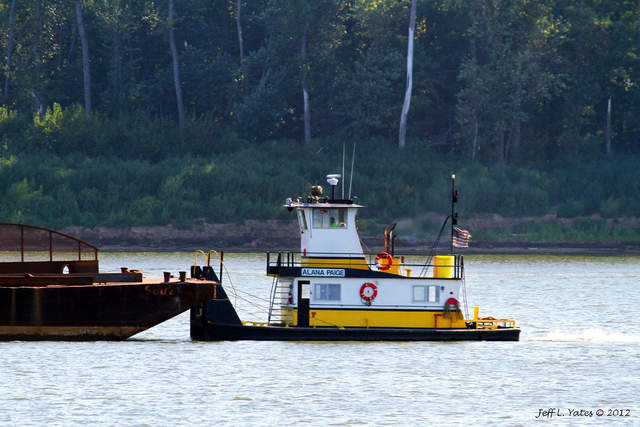 Photo Mug
& Cap
available!


Cat D343TA diesel, 375 hp. Twin Disc reduction gears 3:1.
Originally Stephen H, owned by
Deneen River Co., Inc., Lacon, IL,
renamed Budd J 2/1976.
Sold to Judd Marine, New Richmond, OH,
renamed Bill Judd 4/1988.
Sold to Valley Marine Service, Duffy, OH 4/1992,
renamed Shawna Marie 1996.
Sold to Hilltop Basic Resources, Cincinnati, OH 11/1997.
Sold to Aquarius Marine, Inc., Ludlow, KY,
renamed Alana Paige 4/2004.