Dick's Towboat Gallery


Home
Site Keyword Search
Select Desired Menu
Recently Added/Changed

Click On Images Below
For Other Views Of
Aaron Charles McKinney
(Images 1-4 of 4)





Aaron Charles McKinney #650496
Length 60 feet - Breadth 24 feet - Twin screw towboat
Built 1981 by Scully Bros. Boat Builders, Stephensville, LA
(entered service 1984)
(Additional Information Below Picture)
Last Updated at 8:48 on Wednesday, March 6, 2019
Copyright Photo by Capt. Billy Smith - Thanks, Billy!
On The LMR At NOLA, 3/2017
(1 of 4)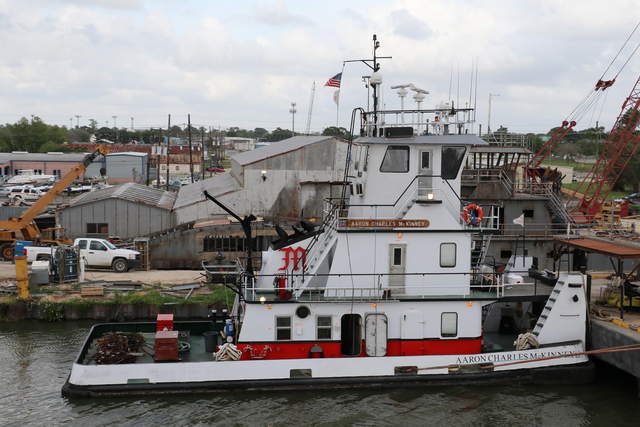 Photo Mug
& Baseball Cap
available!


Mitsubishi S6OR-Y2MPTK diesels, 1320 hp. Twin Disc red.
Originally Casey C, operated by
Compass Marine Services, Inc., New Orleans, LA.
Sold to Elmwood Fleet, Inc., Harvey, LA 10/1993;
operated by Memco Barge Line, Inc., Chesterfield, MO.
Sold to McKinney Harbor Towing, Inc., Baton Rouge, LA 1/2002,
renamed Aaron Charles McKinney 12/2002.
Sold to American Commercial Lines LLC, Jeffersonville, IN 2/2007.
Sold to McKinney Salvage & Heavy Lift, Inc., Baton Rouge, LA 3/2013.