Dick's Towboat Gallery


Home
Site Keyword Search
Select Desired Menu
Recently Added/Changed

Click On Images Below
For Other Views Of
Michelle Ann
(Images 1-2 of 2)



Michelle Ann #0636815
Length 65 feet - Width 24 feet - Twin screw towboat
Built 1981 by Louis G. Ortis Boat Co., Krotz Springs, LA
(Additional Information Below Picture)
Last Updated at 0:23 on Tuesday, June 14, 2011
Copyright Photo by Capt. Billy Smith - Thanks, Billy!
On The LMR In The NOLA Area, 6/2008
(1 of 2)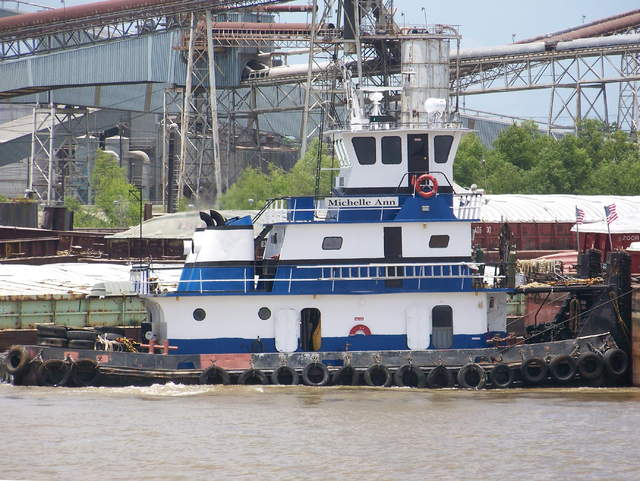 GM 16V-92 diesels, 1200 hp. Twin Disc red. 7:1.
Originally Capt. Carl L,
owned by LL&D Towing, Inc., Harvey, LA.
Leased 1987 to Nolty J. Theriot, Inc., Golden Meadow, LA,
renamed English Turn.
Sold 4/1989 to Marine Inland Transportation Co., Marrero, LA,
renamed Marine Turn.
Sold 4/2000 to International Towing & Transportation Co., Inc., Larose, LA,
renamed Jana Marie.
Sold 10/2003 to Grela, Inc., Harvey, LA.
Sold 6/2005 to Eymard Bros. Towing, Inc., Marrero, LA.
Sold 7/2007 to DMC Towing LLC, Lafitte, LA,
renamed Michelle Ann.