Dick's Towboat Gallery


Home
Site Keyword Search
Select Desired Menu
Recently Added/Changed

Click On Images Below
For Other Views Of
Delta Lady
(Images 1-3 of 3)





Delta Lady #0629299
Length 55 feet - Breadth 22.6 feet - Twin screw towboat
Built 1980 by Garber Bros., Inc., Berwick, LA.
(Additional Information Below Picture)
Last Updated at 0:04 on Sunday, January 6, 2013
Copyright Photo by Glen Daigrepont - Thanks, Glen!
On The ICW At Port Fourchon, LA, 11/2012
(1 of 3)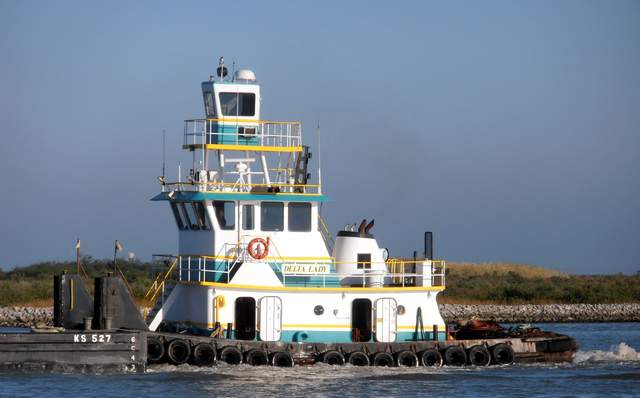 GM 12V-71 diesels, 800 hp. Twin Disc red. 5.92:1.
Originally Miss Griff, owned by builder.
Sold to Inland Marine Service, Inc., New Iberia, LA,
renamed Marsh Eagle 1987.
Sold to Double Eagle Marine, Inc., New Iberia, LA 1997.
Sold to Delta Towing LLC, Houma, LA 2/2001,
renamed Delta Rooster 1/2002.
Sold to B. N. Barrois & Sons LLC, Belle Chasse, LA,
renamed Delta Lady 9/2008.